Customer Service Center
Beijing Travel Advisor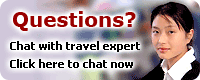 Send Your Enquiry
Can I use my mobile phone in Beijing?
In Beijing, only GSM and CDMA systems are available. Besides, the working frequencies are different for different countries, A frequency of 900/1,800 Hmz only can be recognized in Beijing.
So if you have a dual band or tri band unlocked GSM phone, you can use it around Beijing. In China, GSM networks operated by China Mobile provide coverage in every major city, while CDMA networks run by China Unicom is improving its coverage.
If you decide to purchase a new cellphone in Beijing, it will be necessary to have a new Chinese SIM card inserted in the cellphone. Or you can rent a unlocked GSM cell phone such as Motolora, Nokia in Beijing.
Have a question? Ask us here