Customer Service Center
Beijing Travel Advisor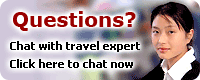 Send Your Enquiry
How about medical services in Beijing?
With the economic development, medical services in Beijing have been got a higher level for treating patients. While, different areas also provide different service qualities according to the development level.
Generally medical services in rural areas are much worse than that in urban areas, where medical facilities and equipment are advanced and doctors are qualified. Western-style medical facilities with international staffs are available in Beijing, Shanghai, Guangzhou and a few other large cities.
You should pay attention that most hospitals in Beijing will not accept medical insurance from the United State, with the exception of the follpwing hospitals, which are on the BlueCross BlueShield's worldwide network providers – overseas network hospitals' list:
| | |
| --- | --- |
| Hospital | Addres |
| Beijing United Family Hospital | #2 Jiangtai Lu, Chaoyang District, Beijing |
| Beijing Friendship Hospital | 95 Yongan Road, Beijing |
| International Medical Center in Beijing | 50 Liangmaqiao Lu, Chaoyang District, Beijing |
| Peking Union Medical Center | 1 Shuaifuyuan, Dongcheng District, Beijing |
Have a question? Ask us here