Customer Service Center
Beijing Travel Advisor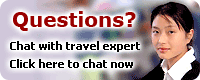 Send Your Enquiry
Tips on Shopping in Beijing
Shopping is a necessary part when you travel in Beijing. Specialties about Beijing can be found in Beijing.
As all known that Beijing is noted for cloisonné, Chinese antiques, dough shapings, etc. When you are attracted by these exotic goods, you should also pay attention about the following point:
Credit Cards including MasterCard, Visa, American Express, JCB, Diners Club, Million, Federal, all are acceptable in most large department stores.
When you buy something from vendors, you can use some small notes so that you can avoid receiving the forge money from them.
Learn to bargain when you do shopping in Beijing. Bargain is an exciting thing when shopping in markets or small shops. You may find an unbelievable low price to purchase something if you try to bargain.
When you would like to buy some valuable things such as antiques, jade, pearls, paintings, you should be careful as to their authenticity.
And some goods are not allowed to be exported from China. So you must confirm whether it can be allowed to pass the Beijing customs or not.
Have a question? Ask us here