Customer Service Center
Beijing Travel Advisor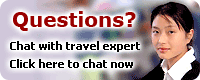 Send Your Enquiry
Travel with Special Groups
Travel with Children
Traveling with children may be more challenging since children are inherently vivacious, mischievous, active and easily bored. Here we provide some tips for you when traveling with children:
Consider about the destinations which are both suitable for you and your children. From views of education, culture, interest as well as instruction, you may plan a tour that can widen your children's vision in a comfortable atmosphere.
Make sure your children are fit to travel. You should ask some advices from your doctors. And you also should remember to insure for kids before your tour.
When on the transport vehicles, do not let your children wander at will in the cabin or compartment to prevent possible injury or discomfort to other travelers.
Your children may not get used to the diet in Beijing. In order to avoid this situation, you can inform your travel advisor what should be arranged or just ask them to give you some suggestions on this matter.
---
Disable travelers
Chinese governments have built a friendly country to the disable people. There are various considerable facilities for disable people to travel in. Special-designed & equipped facilities in the public area of transport, airport and hotel are now more accessible. Here we provide some tips for disable travelers:
Get plenty of information and finalize your destinations. Those special-designed facilities in your destinations may be totally different from that of your countries. But you can not be anxious because many big cities such as Beijing, Shanghai, Shenzhen, Hong Kong have already built up a comparatively complete system for this special group.
Make a throughout body check before your Beijing tour. I is necessary to discuss with your doctor about this matter. You should take your doctor's name and telephone number for emergencies.
Telling your travel advisor what equipment you may take or you need when traveling in Beijing.
Recheck your health insurance policy to ensure it covers the medical expenses incurred during trips overseas. Check that in covers pre existing conditions and, if doubt, contact your insurers.
---
Students Travel
Foreign students groups who plan to travel in Beijing have gradually increased during the recent years. This group also should pay attention when traveling.
You may not enjoy a favorable price from train or air tickets by your student cards which are issued by you local schools. But some scenic spots in Bejing may give you a discount on admission fees.
We suggest you that do not choose those adventurous scenic spots when you design your tour planning. But if you prefer to go, you should discuss with your parents as well as the travel advisor.
Have a question? Ask us here